With the recent increase in electricity billing charges, I decided to built a new machine to serve the purpose of 24/7 downloading, internet surfing, file sharing, web based application hosting energy efficient PC. Talking about energy efficient with processing power that capable enough for full time downloading and internet surfing, I immediately think of the Intel Atom processor.


What is Intel Atom? Intel Atom is Intel's smallest chip. It is built with the world's smallest transistors. As Intel's smallest and lowest power processor, the Intel® Atom™ processor enables the latest Mobile Internet Devices (MIDs), and another new category of devices for the internet called netbooks and nettops. Intel® Atom™ processors were newly designed from the ground up, 45nm Intel® Atom™ processors pack an astounding 47 million transistors on a single chip measuring less than 26mm², making them Intel's smallest and lowest power processors. All this while delivering the power and performance you need for full Internet capabilities.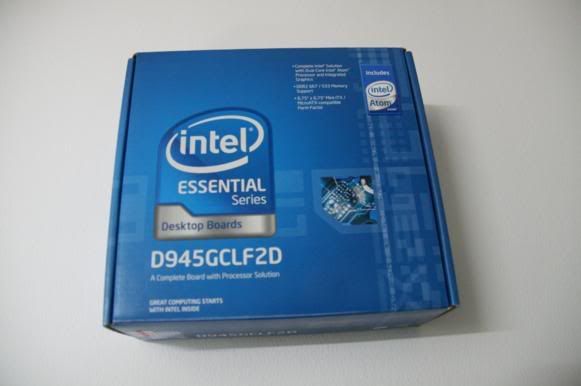 There are numerous of Intel Atom motherboard and processor combo available around the market, after some survey and budget tinkering, I decided to opt for the Intel D945GCLF2D, Intel Atom processor 330 Dual Core set. The main reason I opted for the this was due to the cheaper price tag compared to other same solutions and also I do not need HDMI and the better 9300GS VGA from the Nvidia ION platform.
To further emphasizing the power saving capabilities of the Intel Atom 330 platform, I come across some articles over the Internet with experiment done to calculate the exact power consumption comparing Atom 330 and E8500.
According to the article, they compare a E8500 @ 3.16GHz on Asus P5E3 Premium system with Atom 330 @ 1.6GHz on Intel D945GCLF2, listed below are the data of the experiment,
The main advantage the Atom 330 has is low power consumption - supposedly it has a maximum total power draw of 8W.
Here is some experimental data:
· E8500 @ 3.16GHz on Asus P5E3 Premium: 92W idle, 118W loaded
· Atom 330 @ 1.6GHz on Intel D945GCLF2: 41W idle, 45W loaded
It looks like going to full load from idling at the desktop the Atom 330 only used 4W more - so the 8W TDP figure is quite believable.

Let's say it is being deployed as File Server/Download Server for 24h/day, it would idling most of the time. So let's calculate how much power would be used in a year.
24h/day * 365 days = 8760 hours

Atom 330 @ 41W * 8760 hours = 359,160 W/hr = 359.16kWhr
E8500 @ 92W * 8760 hours = 805,920 W/hr = 805.92kWhr

Now let's say we pay $0.10/kWhr
Atom 330 would use $35.91 in electricity running for a year
E8500 would use $80.59 in electricity running for a year.

Now let's say we are in a place that charges $0.25/kWhr
Atom 330: $89.79 for a year
E8500: $201.48 for a year

Where electricity is expensive, a small Atom 330 based home server would save the cost of the motherboard in less than a year!



The file-station will be installed with Windows XP Professional SP3 O/S with IIS hosting capabilities. The downloading and file sharing task will be supported by suitable software. The system spec is as following:
- Intel BOXD945GCLF2D Intel Atom processor 330
- 2GB Team Elite DDR2 800
- Intel GMA950 Onboard Display
- Built in Audio
- Western Digital 200GB SATA HDD
- Cooler Master 350W PSU
- Lian Li PC-A6010 casing (a bit weird with ITX mobo on an ATX casing)
With this system setup, I can enjoy 24/7 downloading, file sharing in a fairly low running cost with processing power that capable enough to take the job.
Reference:
Neoseeker Intel D945GCLF2 & Atom 330 Review